In today's scenario where everything has become fast paced, where competition has become global, unemployment rates are high, where the demand of skilled and talented people is more but the supply is less, where turnover and absenteeism has gone up in employees it has become extremely important that companies choose wisely and recruit the 'right' person.
However recruitment today entails spending lot of time in selecting and interviewing candidates, being abreast of new recruiting technology, engaging with prospective, good candidates for a longer duration, knowing the right kind of questioning and probing and so forth. Most companies do not have the luxury to spend so much time and effort following this rigorous recruiting methodology. Thus outsourcing one's recruiting and hiring needs has become the need of the day.
There are many benefits for outsourcing one's recruiting process but the five major ones are as follows: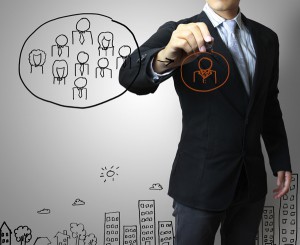 Enhanced Objectivity for People Selection:
One of the major benefits is that the selection process becomes more objective and fair as the process is done by recruiting consultants who are outside of the company and who would follow rigorous processes while hiring. The comparison between candidates would be to make the best choice and pick the best one.
Secondly, outsourcing helps save time of many of the internal hiring managers and overall of the HR department, allowing them to focus on other more pertinent issues of the existing employees. Not just that, the time taken to fill a vacant post is also considerably reduced as the recruitment agency's or consultants' sole job, without any other distractions, is to work on getting the right person for the right job. 
When hiring and recruiting are outsourced the one cost the company has to bear is the professional charges of the recruiting consultant or company. But the benefit is that many other costs spent on advertising, investing in recruiting technology, etc are curtailed. This helps in bringing down the overall costs borne by the company for recruitment and hiring considerably.
 Helps in Staying Tuned on Core Business Operations:
Whenever recruiting becomes a regular in-house process within the company, it leaves little time for the 'recruiter' employee to tune in on his core business role. It thus becomes beneficial then to outsource the recruiting process to dedicated recruiting consultants as it does not take anything away from core business activities. But at the same time the company is rest assured that they would find the 'right' talent that they need.
 Reduction in Internal Office Politics:
If recruitment and hiring process is part of the internal HR department of the company, it could become a tight rope walk for the HR professionals who play the role of recruiters as they become answerable whenever there are disputes or conflicts to the top management as well as the employees that they may have hired through the recruitment process.  A third party intervention in the form of a recruitment agency or consultant helps in avoiding such tricky situations and also the office politics that could get generated due to the same.
ABOUT AUTHOR
Shital Ravi, Director (Counseling), Psychologist Specializes in personality assessment and individual counseling. She has considerable experience in psychometric evaluations and assessments. Shital is also an experienced assessor, having assessed in over 75 assessment – development centers, for various managerial levels. Besides this, she has vast experience in conducting competency based interviews as well as assessor training workshops. Shital is also an accomplished Bharatnatyam dancer and has received several state and national awards. Shital is presently working on Dance Therapy, where she is researching on how dance can be used for therapeutic purposes.