In today's corporate setup a lot of effort goes into the process of recruitment and hiring. Training, grooming, mentoring and handholding are the other processes that follow consequently. After all this work that goes into getting new recruits on board, if they either prove to be incompetent or if they suddenly choose to leave the company then facing the brunt of this wrong recruitment can indeed be a very costly affair for the company.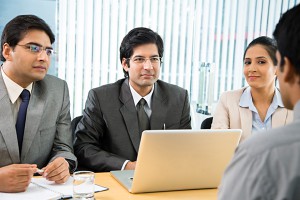 Hence it becomes important to try and minimize the risks that are involved while recruiting and selecting candidates. There are five important steps that you could take to further bolster the recruitment process and minimize the risks :
 Identify the key competencies needed for the job in question:
First and foremost it is important to understand as to what the key competencies or essential skills are which would be needed for the job profile or role that the candidates are going to be interviewed for. This identification would help the recruiters check and analyze whether the potential candidates have these skills and competencies thus ensuring a good match between the job profile and the potential candidate.
 Ensure that you give a realistic job profile to the would-be candidates:
It is important that the candidates applying for the position know well in advance what the job will entail. Thus while publicizing about the openings in the company it would be important to give a true and realistic picture of the job profile/role. This will ensure the readiness of the candidates when they actually take up the job and the challenges that they would face.
 Assessing candidates through multiple sources:
Once the initial applications forms and CVs are sieved through, it is important to employ more than one method through which a candidate is assessed. This could include phone interviews, competency based interviews, psychometric assessments, technical interviews and assessments, etc. Companies could choose 2-3 methods so as to ensure that the data on the candidate being the right fit for the role is gotten from various sources which help in cross checking data and finding discrepancies, if any.
 Do a thorough background check:
Once the potential candidates are shortlisted, a thorough background check should be done. This could be done by contacting earlier employers [as permitted] or from the references that may have been given.
 Commitment through communication:
The company should give an honest and transparent picture to potential candidates about the entire physical environment, work culture and the potential career road map that they envisage for the candidate. This is different from just giving a true picture of the job profile which is more focused and specific in nature. Concurrently it is important to seek a commitment, which could be verbal, written or both, from the candidate on maintaining a long-term association with the company. This may not necessarily ensure longevity of the employee in the company and yet many times employees do feel strongly that they should honor their own word of commitment.
All these steps may not guarantee a perfect recruitment process, which it never is, but it could surely lead to better selection decisions and help reduce the risks faced during recruitment.
About Author
Shital Ravi, Director (Counseling), Psychologist Specializes in personality assessment and individual counseling. She has considerable experience in psychometric evaluations and assessments. Shital is also an experienced assessor, having assessed in over 75 assessment – development centers, for various managerial levels. Besides this, she has vast experience in conducting competency based interviews as well as assessor training workshops. Shital is also an accomplished Bharatnatyam dancer and has received several state and national awards. Shital is presently working on Dance Therapy, where she is researching on how dance can be used for therapeutic purposes.