Assertiveness is the ability to formulate and communicate one's own thoughts, opinions and wishes in a clear, direct, and non-aggressive way. It is the ability to express oneself and one's rights without violating the rights of others. The ability to be assertive is an asset which is necessary to achieve worthwhile aims and impose some order and justice in one's environment. Assertiveness does not equate to being selfish as one pays attention to not only his/her own rights but also is sensitive to the rights of others.
It would be good to understand here the difference between assertive behavior and other types of behavior. Aggressiveness means that one expresses one's own rights but at the expense of degrading, or humiliating another individual whereas submissiveness means that one is just unable to express one's rights and keeps compromising the self, leaving one with feelings of humiliation, guilt and dissatisfaction.
Thus the types of responses that one can give in a situation are different. Let us take a look at the types of responses and what they would mean: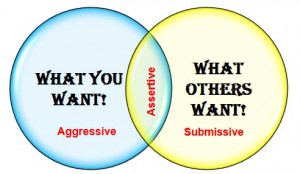 Submissiveness: I lose-You win
Aggressiveness: I win-You lose
Assertiveness: I win-You win
Thus one would understand that 'When you communicate assertively, you are more likely to achieve your goal without becoming involved in a conflict with the other person which then leads one to the I win-You win position'.
But are there any reasons that are keeping you from being assertive? Let us explore some which may be the impediments that may not be allowing you to assert yourself:
Refusal to admit one's submissiveness.
Fear of ruining relationships if you speak your mind.
Lack confidence in your ability.
Dealing with the following before you embark on the journey towards transformation is important:
Deal with the anxiety associated with change.
Reconcile the conflicts within your value system.
Assess the repercussions of being assertive.
Prepare others for the changes they will see in your behavior or attitude.
Developmental measures on a way to Assertiveness…
What you could do to become assertive:
–USE "I" MESSAGES
An "I" message is a good way to let people know what you are thinking. It is made up of three parts.
Behavior – what it is, exactly, that the other person has done or is doing
Effect – what is happening because of their behavior
Feelings – what effect does their behavior have on your feelings?
By using this kind of message, you are giving another person complete information, leaving no room for second guessing or doubt.
-CHOOSE ASSERTIVE WORDS CAREFULLY
Use factual descriptions instead of judgments
Avoid exaggerations
Use "I" not "You"
Express thoughts, feelings, and opinions reflecting ownership
-CHECK-UP 
Always checkup whether you have an assertive approach to situations or not.
-ACTION PLAN
Here are some communication techniques that can help you convey a positive assertive attitude:
Use suitable facial expressions, always maintaining good eye contact.
Keep your voice firm but pleasant.
Pay careful attention to your posture and gestures.
Listen…and let people know you have heard what they said.
Ask questions for clarification.
Look for a win-win approach to problem solving.
BENEFITS OF ASSERTIVENESS:
Embark on this journey towards assertiveness; motivate yourself towards being assertive as the benefits are immense:
More balanced lifestyle
Improvement in productivity and effectiveness as a worker
More in control of one's daily schedules and plans
Ms. Shital Ravi
Sr. Consulting Psychologist
Psychometrica