In today's fast paced world, we often talk about juggling various professional and personal responsibilities. It needs to be understood that the balance that we talk about is a feeling of fulfilling one's important roles appropriately.
However, all of us at some point or the other face imbalance or conflicts in our struggle to juggle a range of activities viz:
Profession and career
Family and parental responsibilities
Self-development
Social commitments
Leisure
Community work
Primarily the conflict starts occurring when the duties, obligations, responsibilities of work and family becomes hard to juggle with and when obligation of one forces us to neglect the other. So how do we know if we are out of balance?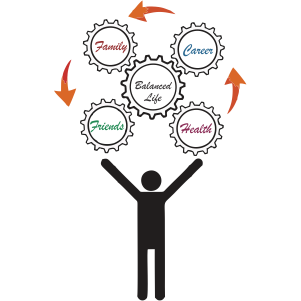 There are several warning signs and it is important that we learn to pay attention to. The signs are as follows:
Physiological (physical) warning signs:
Heart pounding, muscle tension, shortness of breath, dry mouth, high blood pressure, insomnia, dizziness, headaches, stomach distress etc.
Psychological (emotional) warning signs:
Helplessness, anxiety, nervousness, confusion, worry, boredom, negative attitude/thoughts, inability to concentrate, suspiciousness etc.
How do we achieve the desired work-life balance then?
Achieving work-life balance and 'getting it right' is a dynamic process. The point of balance keeps on shifting and the key to attain this balance is to become attuned to these moment-to-moment changes and adapt accordingly.
Some beneficial ways and methods to achieve the work-life connect include:
Compartmentalizing the things that you need to do. While it's not really possible to keep the professional and personal responsibilities separate, we need to demarcate wherever possible.
Develop appropriate assertiveness and the ability to say 'NO' wherever required.
Learn time management and prioritize your tasks.
Inculcate the habit of keeping a 'to-do' list.
Ensure that the most important and urgent things are prioritized.
Rediscover your hobbies and schedule your time for it, as it is one of the best energy boosters.
Put yourself first! If you don't, the quest for balance will be an endless battle.
Simplify your life and be clear about what needs to be done and when.
About Author
Shital Ravi, a prolific writer and counselling psychologist by profession, is the founder member of a counselling center started in 1999. As a psychologist, Shital's expertize lies in personality assessments, psychometric evaluations, individual counseling and therapy. She is a veteran in competency mapping and has successfully run assessment and development centers. Developing customized psychometric tests for organizations is an area of profound interest for her.